Structured Cabling Services in Deerfield Beach & Miami, Florida
All of your security, electrical, and computer systems must be connected together at your office to help your business prosper through proper cabling. Computer usage, bandwidth capabilities, and connection speeds have changed dramatically in the last decade. Therefore, a structured cabling system has no alternative.
At Alarm Brokers of Florida, we provide structured cabling services to our customers' businesses in Lighthouse Point, Deerfield Beach, Fort Lauderdale, Miami Gardens, Opa Locka, and other cities in our South Florida service area with a level of economic and functional efficiency that was not possible a decade ago. Call us today at 786-699-8434 for more information.
What is Structured Cabling?
Structured cabling consists of best-practices involving the design and construction of your telecommunication infrastructure. These practices help standardize your telecom cabling structure to facilitate interoperability, moves and additions, and system dependability. These services allow businesses to increase the overall efficiency of their telecommunications tech, making it a valuable investment with high ROI potential.
Our structured cabling services can plan, design, and install whatever your cabling needs (Cat 5e, Cat 6, fiber, coax). The technicians at Alarm Brokers of Florida are capable of maintaining, troubleshooting, or upgrading any size network from small retail locations to large million-square-foot warehouses.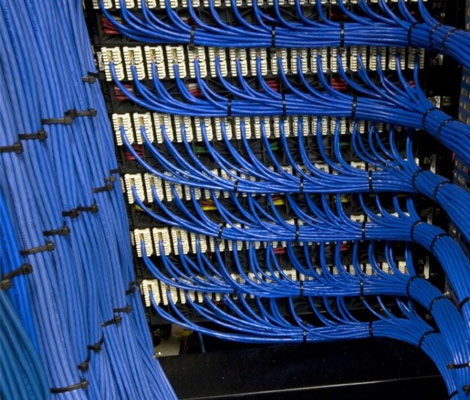 Benefits of Structured Cabling
Future Proof Investment: Perhaps the most significant benefit of a structured cabling system is the increased bandwidth, which provides a reliable infrastructure for business growth. With structured cabling, your network infrastructure won't become outdated and will support future applications as your business grows.
Simplicity: There is a high level of simplicity that comes with an organized cabling system. It enables you to run all devices and IT equipment off one single system, eliminating the complexity of having multiple wiring infrastructures in place.
Cost-Effective: Using one cabling system reduces power consumption and maintenance costs, saving you money in the process.
Enhanced Flexibility: A structured cabling system provides an enhanced level of flexibility that improves performance and drives business growth.
Reduced Risk of Downtime: A well-planned system means easier troubleshooting and less downtime.
Call us at 786-699-8434 or contact us to learn more about structured cabling services in Coral Gables, Miami Beach, Doral, and other cities in the Greater Miami FL area.