Business Monitoring on a 24/7 Basis in Miami & Fort Lauderdale
At Alarm Brokers of Florida, we provide our customers with the products & services for 24/7 monitoring services for their business properties. Our cameras are powered by industry leaders like Brinks, Honeywell, Hikvision Camera, and Axis which ensures quality and trust for achieving a respectful space in the users' minds.
We provide 24/7 Business Monitoring is just like prevention before a disease breaks out. This purpose is conveniently served by Alarm Brokers of Florida's cameras and other alarm systems, by Brinks, Honeywell, Hikvision Camera, Axis in the concerned area. While an indoor camera will record moments happening at each corner of the office and save the videos for future usage, the app installed on your phone will allow you access to those HD1080P videos captured by the CCTV cameras.
Our commercial security services are available in Homestead, Lighthouse Point, Miami Beach, Opa Locka, and other areas of South Florida. Call us at 786-699-8434 or contact us to get a free quote today.
24/7 Commercial Monitoring by Alarm Brokers of Florida
At Alarm Brokers of Florida, we take things to a higher standard by making sure nothing comes in the way of ensuring your 24X7 safety by providing our customers with IR Night Vision cameras that enable them to keep a similar high-quality track of the events happening in the entire office premise. These IR night vision cameras are of a similar quality that is used by the military, law enforcement agencies, hunters for hidden-object detection, surveillance, security, navigation, and similar other activities.
The common features of security cameras provided by Alarm Brokers of Florida are: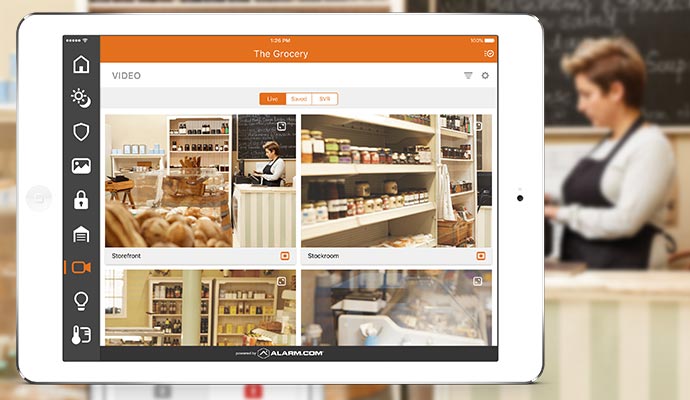 HD 1080p video
IR night vision
113-Degree Viewing Angle
Maximum resolution of 1920×1080
8mm F1.85 Lens
Wireless connectivity
10 Simultaneous Viewers
Video Motion Detection for 3 windows, with adjustable sensitivity
Installing high-tech, CCTV security cameras to monitor your commercial property as well as having an interactive commercial security system that includes access control, Alarm Brokers of Florida provides a completely reliable 24/7 Business Monitoring system to protect your office from fire, theft, vandalism and all other natural & human mishaps. When you need our services in Miami Gardens, Coral Gables, Fort Lauderdale, Overtown, or elsewhere in South Florida, call us at 786-699-8434 or contact us online to get a free quote.