Access Control Services in Miami & Fort Lauderdale, FL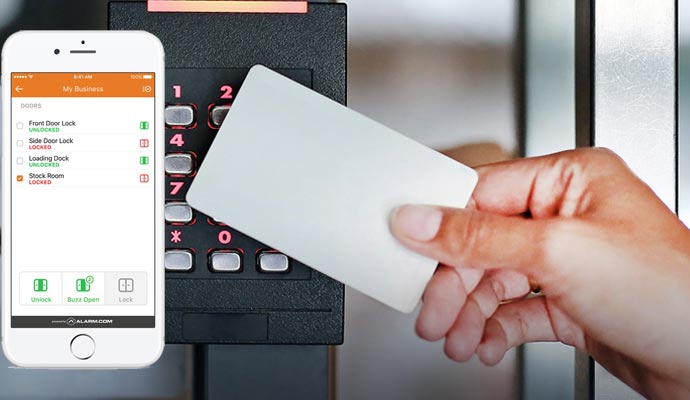 Security measures at home or the office can be a constant headache for property owners. The needs of each security system are unique. While the home security system typically protects only a limited area, your commercial security system could monitor acres of property and dozens of offices. Many of those offices even contain sensitive information and essential documents. Alarm Brokers of Florida provides the most trusted access control services for our business customers in South Florida.
From a remote location, you can limit access to specific parts of your facility to guests or co-workers to protect your prized possessions & sensitive materials. You can assign multiple codes to various parties, each with a different level of security clearance. Let our Alarm Brokers technicians design and install the access control system best suited for your business and your budget in Fort Lauderdale, Key Biscayne, Miami Beach, and throughout our South Florida service area.
Key elements of our access control systems include smart locks, CCTV surveillance cameras, and other measures aimed at enhancing your business security needs.
Access Control in the South Florida Area by Alarm Brokers of Florida
Just installing an access control system to your business property is not enough. With installation, it is important to make sure the system is easy to operate and also that it is suitable for the property. Our security experts can design an access control system made to provide simplicity in keeping your property protected in our South Florida service area that includes Royal Palm Beach, West Palm Beach, Coconut Creek, and dozens of other cities. To let our CCTV surveillance cameras keep your building safe & secure on a 24/7/365 basis with products from industry leaders like Brinks, Honeywell, Hikvision Camera, Axis. Call us at 786-699-8434 or contact online to get a free estimate today.