Smart Lighting Installation in Bay Harbor Island & Miami, FL
One of the common activities we forget to perform in our daily life is properly managing the lighting system of our home. Thanks to smart lighting with the home automation services provided by Alarm Brokers of Florida, our lighting system can be controlled from a remote location with any mobile device like a smartphone, tablet, or desktop computer.
The Alarm.com, Honeywell, Ring, Savant patented Z-wave Dimmable LED Standard Light Bulb is controllable. This fully-dimmable, instant-on LED screw-in light bulb provides pleasant soft-white illumination equivalent to 750 lumens that are found in a 60-watt incandescent bulb, while our one uses only 9 watts of energy. It offers great value, energy savings, and convenience with an estimated 22+ years of lifespan (3 hrs/day avg.) for your home in Bay Harbor Island, Miami, West Palm Beach, North Miami Beach, Pembroke Pines, and throughout South Florida.
Features of Alarm Brokers of Florida's Smart Lighting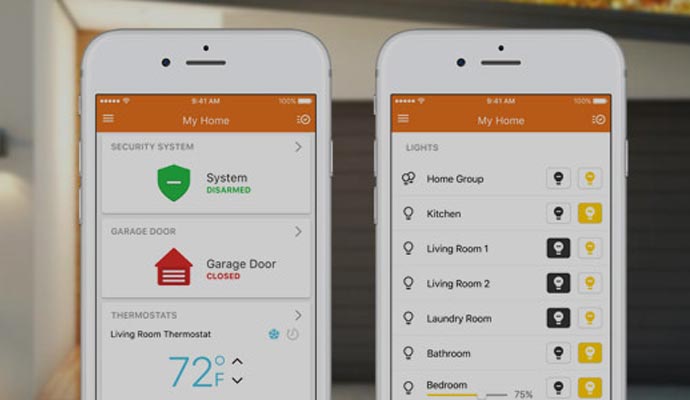 Z-wave compatible, controllable and fully dimmable
No warm-up delay – instant-on -LED screw-in lightbulb
Pleasant soft-white illumination
Power equivalent to 60 watt light that consumes only uses 9 watts
Adjustable to 100 levels of brightness by turning the bulb on, off or using its dimming feature
Acts as a wireless repeater to extend the Z-Wave mesh network to cover a longer distance
No humming
Easily controllable through the Alarm Brokers of Florida app
Remotely operated lighting while the homeowner is away
Bulb Lifetime: 25,000 hours