Smart Locks in Fort Lauderdale, Miami & Key Largo
At Alarm Brokers of Florida, we automate your home with a keyless Alarm.com, Honeywell, Ring, or Savant patented Z-wave deadbolt lock to simplify your life. It allows you to lock and unlock your door by entering a unique 4-8 digit pin code on its backlit buttoned keypad or through your Z-wave smart home or Alarm Brokers of Florida system app. It is a perfect way to automate your home in Miami, Weston, Coral Gables, Fort Lauderdale, and other cities in South Florida.
Smart Locks for Your Home by Alarm Brokers of Florida
Worried about how to control visitor entry while you're away? Not anymore. Now you can assign unique entry codes to neighbors or family members and monitor their actions too- simply on your smart mobile devices, at a convenient location. Finally, it's time to say goodbye to those last-minute searching for your keys!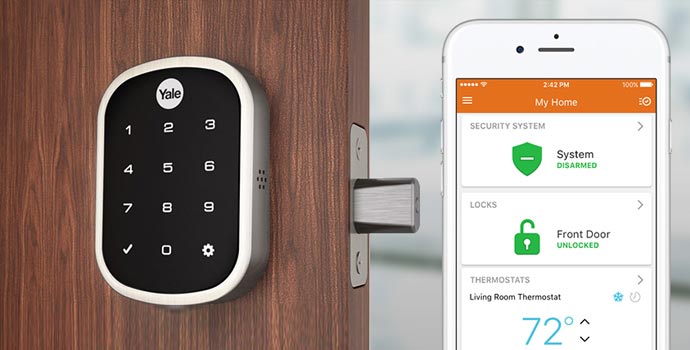 Learn About Z-Wave and its Usefulness
Z-wave is a new trend for safer and smarter security locks. These are highly advanced smart locks that provide you with peace of mind security allowing you to know who is coming and going from your home. Once the smart-lock is connected to the Alarm.com app, you are now able to remotely access your lock. So, if you didn't lock it, simply lock it with your smartphone
How do you use Z-wave? Unlike Bluetooth locks, Z-wave locks don't connect directly with your phone. Instead, they'll need to connect to a Z-wave-compatible hub which again you can have access through the Alarm.com app. That hub will translate the lock's Z-wave signal into something your router cause once it does, you'll be able to connect with your lock from anywhere.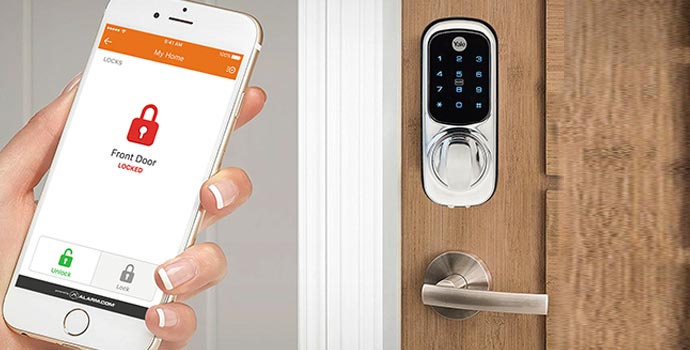 Features of Alarm Brokers of Florida' Smart Locks in Key Biscayne, Coral Gables, & Doral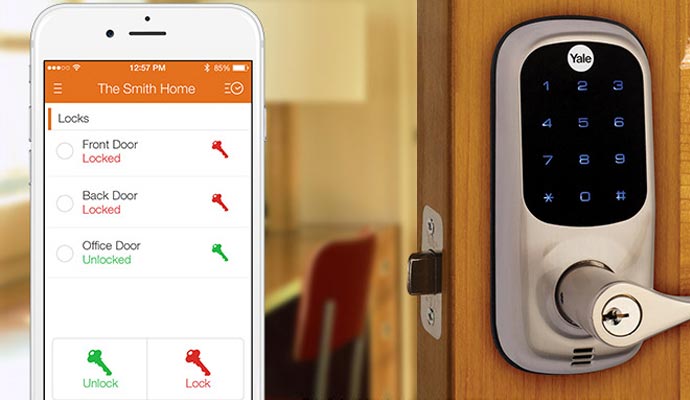 Store up to 25 unique pin codes to share with friends and family
Push buttons illuminate for convenient night entry
Deadbolt: motorized tapered blot helps align door during locking
Know when family members or friends come and go
View status of locks remotes
Suitable for all standard doors
Suitable for interior business application
Z-wave configured
Three different color finishes
Privacy feature locks out all users for added security
Text and email alerts
Schedule users by date and time
Certified ANSI/BHMA A156.36 Grade 2
Rely on Our Smart Locks to Protect Your Home in Hollywood, Hialeah, & Homestead
Our smart locks and other home security services are available in Hollywood, Hialeah, Dania, Plantation, and other areas of South Florida. Call us at 786-699-8434 or contact us to get a free quote today.